The Unofficial Ryan Cartwright Site
Now back on line . My tribute to the fine young British actor Ryan Cartwright.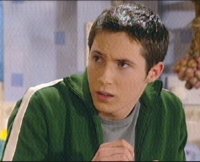 So why Ryan? I always wanted to run a celeb. site and as Ryan doesn't have one, as such, and is such a warm and friendly person and very mature actor, for his age, who better?! Ryan has a great talent for comedy, but is also highly capable of serious roles. I just hope my site attracts some attention and as a result we might see more of him on TV.
His TV roles include guest appearances in Dangerfield and Doctors. He played David in the award-winning BBC/Disney channel series 'Microsoap'. A more recent role was in 'All about me', a BBC sitcom. Starring alongside Jasper Carrott and Meera Syal who play Colin and Rupinder, two divorcees with kids, he played Colin's son, Peter. Ryan's latest role is in the kid's TV show, 'Seriously Wierd' (see below).
Probably his best know role was in the excellent (and very under-rated) UK Sitcom 'The Grimleys' starring alongside comic genius Brian Conley, along with Nigel Planer (Neil from 'The Young Ones') and Noddy Holder from 70's Supergroup 'Slade'. Ryan also did the commentary for 'The Grimleys', a job that he seems naturally suited to.... are you reading this, people at Discovery Channel ?!!
Ryan plays guitar and likes to watch The League of Gentlmen. He's also making a short film he and a friend wrote and would like to go into stand-up comedy !
The original UK screening dates of The Grimleys;
Pilot - The Grimleys (5 Jul 97)
Series 1 (8 Mar 99 - 20 Apr 99)
Series 2 (9 Jan 00 - 12 Mar 00)
Series 3 (22 Jan 01 - 19 Feb 01)
Special - The Grimley Curse (1 Apr 01)
Ryan as Darren, in the TV series 'The Grimleys'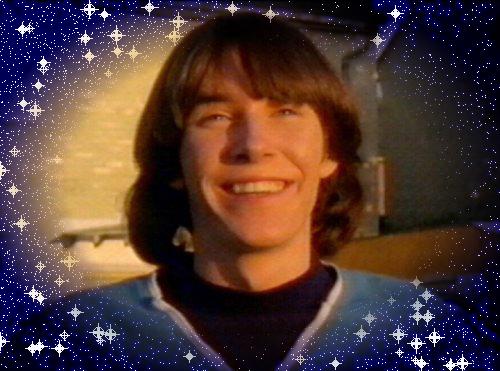 Gallery 6 Ryan the punk
'Boy Soprano' MPEG Movie (2.2MB) New Darren gets on the wrong side of Doug Digby (Right click and choose 'save target as', to download)
Ryan as David, in the TV series 'Microsoap'
Gallery 7 New

Stop press:
Seriosly Wierd to air soon.... An X-File for teens premise, the series follows the adventures of 15 year old Harris Pembleton (played by Ryan), who is a transfer student from England. He's having trouble adjusting to life in an American high school and it isn't going to get any easier when he becomes a "one man welcoming committee for everything paranormal the universe has to offer." "The whole thing starts when Harris, a true neatness freak, decides to arrange the crystals on the unassuming Stone of Stephano. All of a sudden, Harris' tidying hurdles him into another dimension where he comes face to face with a god. Stephano gets cheesed off when his English guest is less than impressed by the deity's supposed powers and he curses the boy to become a magnet for all that is weird in the universe. He knows, as Harris will soon find out, that this teenager's life will never be the same again."

I'm hoping to add to the site and include more information about Ryan's other roles and maybe some features on 'The Grimleys'. I hope too, that this might one day become 'The Official Ryan Cartwright Site' as I know he sometimes browses the WWW:-)
Check out the Unofficial Ryan Cartwright Fan Club on Yahoo.
About Me: A Computer & Electronics Technician, with University training (BSc. Hons) in Electronics, Music, Media & The Internet. Interests include UK Sitcoms, early 70's music, Ham Radio, model-making, synth. organ & guitar making, the WurliTzer cinema organ, Video & music editing, millitary aviation, UK countryside. I am also writing a book, with a comic theme though I can't disclose details, at present.
Site maintained by dsteel@nonspam.luft46.plus.com